Michael Harris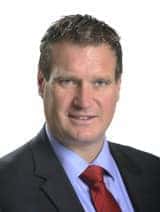 Michael graduated from Brentwood College School in Mill Bay B.C. in 1992. Later that year he enrolled at the University of Victoria and graduated with a political science degree in 1996. While attending University, Michael operated a successful painting business with six employees for three years. Between his third and fourth year at university, he sold vehicles at Tom Harris Chevrolet Cadillac in Nanaimo.
The day after graduation Michael returned to work at Tom Harris Chevrolet Cadillac. Michael worked as a sales consultant there for the next three and a half years and was awarded membership in General Motors Sales Marketing Guild, being recognized as a top producer with high customer satisfaction scores.
In 1998 Mike completed G.M.A.C's Managing Retail Operations course. In January 1999 he enrolled in the National Automobile Dealers Association's Dealer Candidate Academy in McLean Virginia, USA. He graduated from the program in December of the same year with a post-graduate diploma.
In January of 2000, Michael became the General Manager of Woodgrove Chevrolet Oldsmobile and three years later that dealership was awarded General Motors highest achievement, "The President's Triple Crown Award" based on sales and customer satisfaction.
From 2002 to 2006 Michael split his time acting as General Manager of Island Kia, and Harris Mitsubishi in Nanaimo, and Woodgrove Chevrolet Oldsmobile in Parksville. During this time Michael oversaw the development of Island Kia and Harris Mitsubishi which were brand new dealerships, selling what were new brands to Canada at that time, into stores with tremendous growth. In 2002 Island Kia won Kia Canada's most prestigious award for the highest service department customer satisfaction rating of any Kia dealership in Canada.
In June of 2007, Michael purchased Christensen Mazda in Nanaimo with his father and business partner, Tom, and began actively working as Dealer Principal there, splitting his time between Christensen Mazda and Oceanside Chevrolet. (In 2010 they changed the name of the Mazda dealership to Harris Mazda).
In March of 2008 along with his partner, Tom, they purchased O.K. Tire in Parksville.
In 2009 Oceanside Chevrolet was awarded the Buick and GMC franchises by General Motors and is now known as Harris Oceanside Chevrolet Buick GMC.
In June of 2012, Michael and three partners purchased Harris North Island Nissan in Campbell River. Michael and his partners subsequently sold this business in 2014.
In September of 2012, he and two partners purchased Harris Victoria Chrysler Dodge Jeep Ram in Victoria, BC.
Michael served on the Board of Directors of a company called Western Dealers Co-Auto, based in Edmonton, Alberta from 2007 until 2013.
Michael served on the Board of Directors of the New Car Dealers Association of British Columbia, representing the auto dealers of North Vancouver Island from 2008 until 2014.
Michael served on the Board of Directors of the New Car Dealers of B.C.'s Foundation from 2009 until 2014.
Michael is married to Amanda and they have three sons named Matthew, Charlie, and Ben.